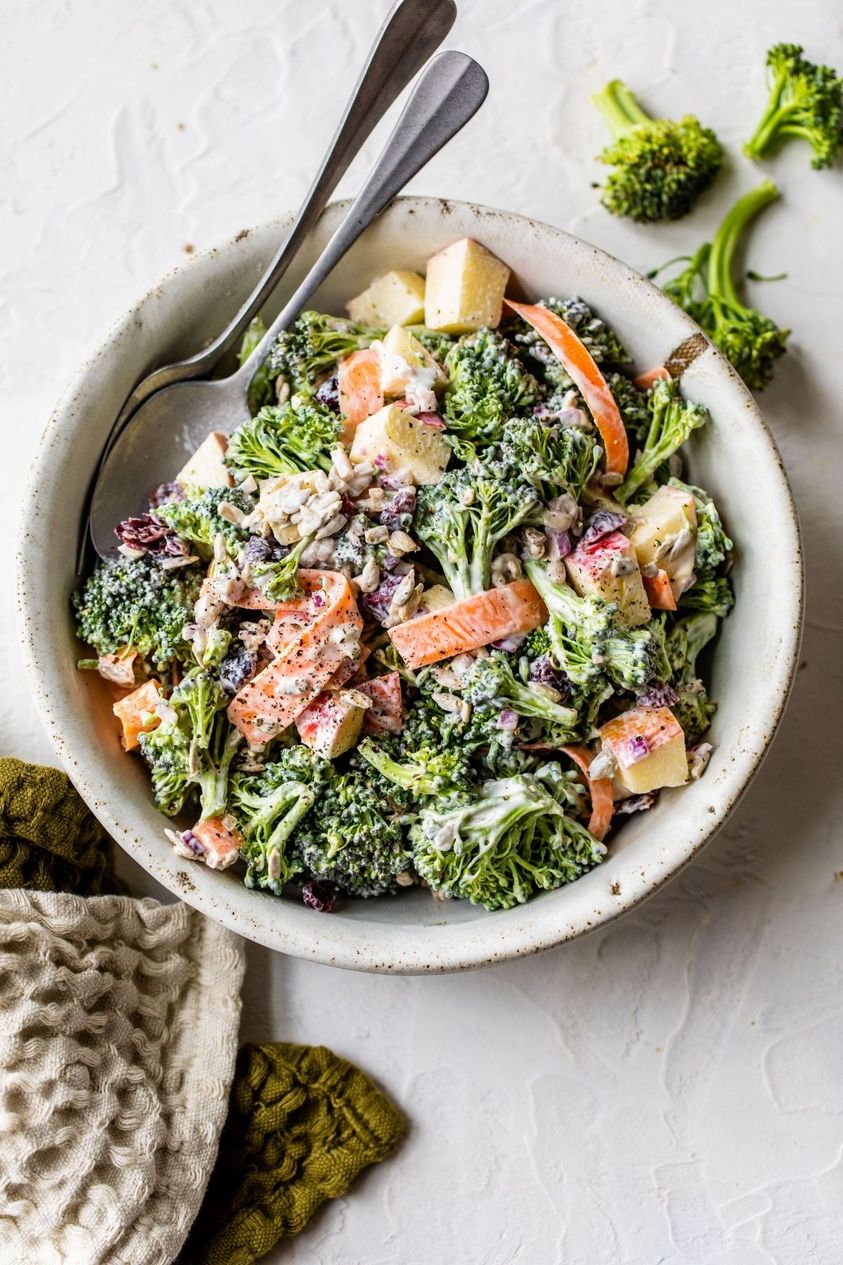 Broccoli Apple Salad is a refreshing and nutritious salad that combines the flavors of crisp apples, crunchy broccoli, and a tangy dressing. Here's a simple recipe to make Broccoli Apple Salad:
Ingredients:
– 2 cups broccoli florets
– 1 large apple, diced (preferably a crisp variety like Granny Smith or Honeycrisp)
– 1/2 cup diced red onion
– 1/2 cup dried cranberries or raisins
– 1/2 cup chopped walnuts or pecans (optional)
– 1/2 cup plain Greek yogurt
– 2 tablespoons mayonnaise
– 1 tablespoon honey
– 1 tablespoon lemon juice
– Salt and pepper to taste
Instructions:
Start by blanching the broccoli florets in boiling water for about 2 minutes until they turn bright green and slightly tender. Drain and rinse them under cold water to stop the cooking process. Alternatively, you can steam the broccoli until it's crisp-tender.
In a large bowl, combine the blanched broccoli florets, diced apple, red onion, dried cranberries or raisins, and chopped walnuts or pecans (if using). Toss everything together gently to distribute the ingredients evenly.
In a separate small bowl, whisk together the Greek yogurt, mayonnaise, honey, lemon juice, salt, and pepper until well combined. Taste and adjust the seasoning according to your preference.
Pour the dressing over the broccoli and apple mixture. Gently toss the salad until all the ingredients are coated with the dressing.
Cover the salad and refrigerate for at least 30 minutes to allow the flavors to meld together. This will also help soften the broccoli slightly.
Before serving, give the salad a quick toss to redistribute the dressing. You can garnish with additional chopped nuts or dried cranberries if desired.
Enjoy your refreshing and healthy Broccoli Apple Salad!