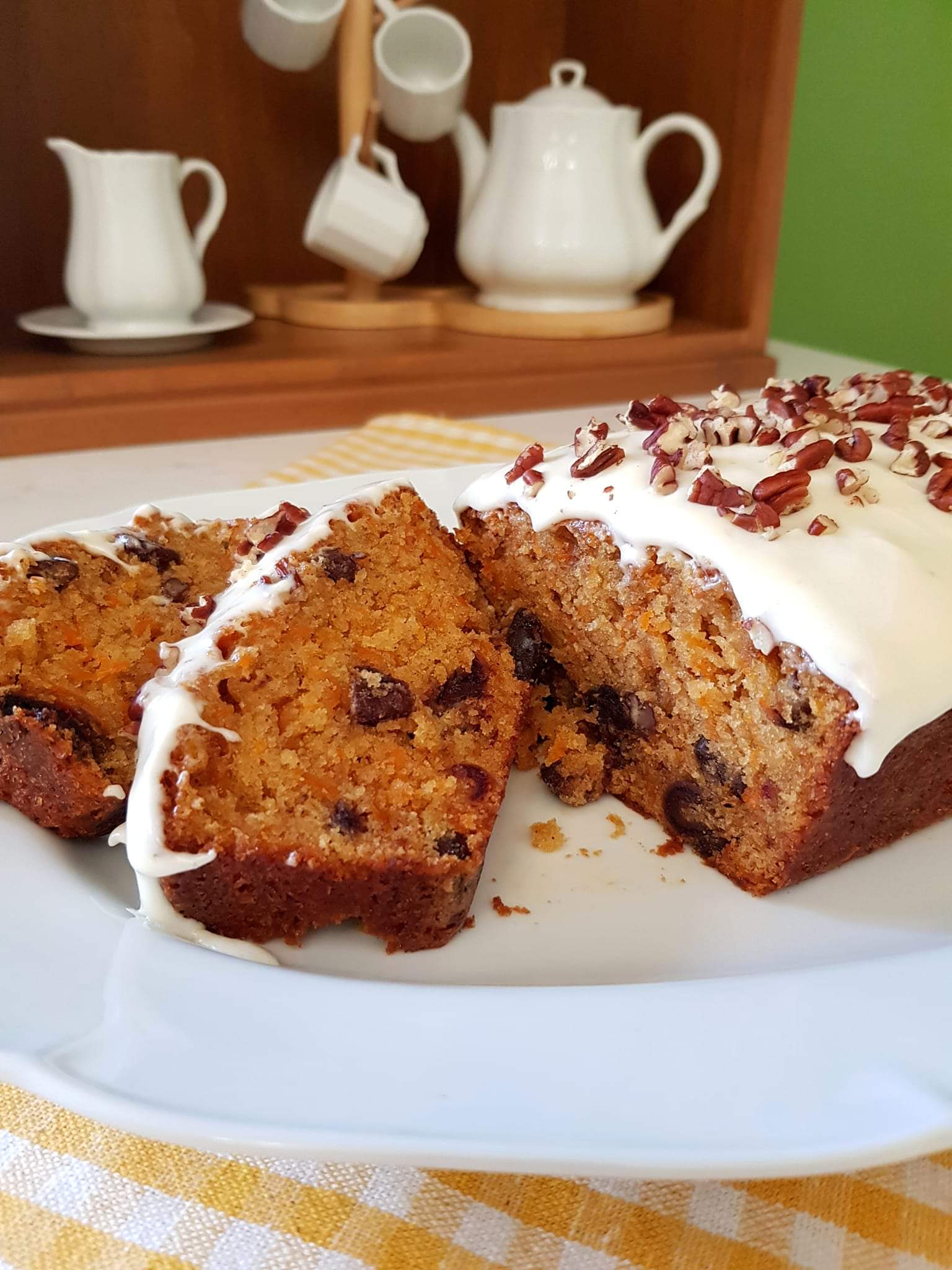 Super Moist, not too sweet and of course delicious 😊
RECIPE:
Ingredients 🛒
Carrot Cake:
1 Cup Plain Flour
2 Tsps Baking Powder
3/4 Cup Pitted Dates, chopped
1/2 Cup Pecans or Walnuts, roughly chopped
1/2 Cup Vegetable Oil
1/2 Cup Sugar
2 Eggs, room temperature
1 Tsp Cinnamon
1/4 Tsp Ginger
1/4 Tsp Nutmeg
1 Tsp Vanilla Essence
1 Cup Coarsely grated Carrots
1/4 Tsp Salt
Caramel Syrup:
1/2 Cup (115g) Granulated Sugar
1/4 Cup (60ml) Hot Water + 1 tbls water
                  Cream Cheese Frosting:
100g/3.5oz Philadelphia Cream Cheese
60g/2oz Unsalted Butter, softened to room temperature
1 1/2 Cups Icing Sugar
1 Tsp Vanilla Essence
Pinch Salt, to taste
Caramel Syrup –
In a small saucepan stir the sugar and 1 tablespoon water over low heat until the sugar is completely dissolved. Increase the heat to medium and stir occasionally until it turns a dark colour (approx 4-5 minutes). Remove from heat and add 1/4 cup hot water (be careful as it will bubble up). Stir well and allow to cool.
Carrot Cake –
Preheat oven 180C/350F.
Line a 9×5 inch loaf pan with baking paper.
In a small bowl, add the dates and pecans and 1 tablespoon flour to coat them. This will prevent the dates and nuts from sinking.
In a large bowl with a hand balloon whisk, whisk the sugar, eggs, oil and salt until well combined. Sieve in the flour, baking powder, cinnamon, nutmeg and ginger and stir with a spatula until smooth. Pour in the prepared caramel syrup and vanilla essence and mix well with a balloon whisk again.
Stir and fold in the grated carrots, dates and nuts. Pour batter into prepared cake tin and bake for 40-50 minutes or until a skewer stick inserted comes out clean.
Let cool completely before removing from pan.
Cover the top with cream cheese frosting and decorate with extra chopped pecans or dust with icing sugar.
Cream Cheese Frosting –
Beat the cream cheese until smooth. Add the butter and mix until combined. Add in the icing sugar and vanilla essence and continue mixing until smooth. Add more icing sugar is frosting is too thin or an extra pinch of salt if too sweet.
NOTE:
Cake can be left covered in a cool dry place within 24 hours. Any longer than that, keep refrigerated. I am not keen on putting cakes in the fridge as the texture doesn't stay the same. Normally I refrigerate the cream cheese in a container and spoon it on top of the cake when serving and keep the cake covered at room temperature.